Welcome to our Learning House! :)
Finding the right edu- toy for your loved ones.. :))
Nowadays, mummy and daddy are looking for the right edu- toys for Aidan.. We have been browsing for anything and everything at all in order to expose Aidan with the environment.. Yup, interactions, physical contacts and so forth, really helped him to be more alert to his environment.. But daddy and mummy really wanna create this so called- FUN to Aidan, during his journey to learn and to get to know his own abilities in responding to his own surrounding..
Surprisingly, the most excited person is.. daddy! He was like ' daddy will get this for Aidan..' and 'mummy, which one, the elephant or the monkey, and mummy went, the monkey.. and daddy replied, naaahhh, i like the elephant..'- the conversation that took place during daddy's mission to buy Aidan, his toy.. See! Daddy yang suka manjakan Aidan, not mummy kay?? kekeke.. :)
With the help of few of my friends, like Aunty Lissa, Aunty Anne and many more, mummy got to know which toys that may benefit us more, and which one is going to be a waste.. and i simply love the idea of selling it off to Mudah.com if Aidan dah tak nak guna lagi KELAK!! I love this website, really!! kekeke.. So, find something that durable, kay guys..
So, here are some of the toys, ( suitable for 6 months onwards ) that daddy and mummy put them as great, edu, help him a lot, exciting, fun, and hangat di pasaran ( so, tak susah untuk jual balik later on- kakakaka ).. Or i will simply simpan for the next 'kicik'.. Wooopppsie!! Kekeke.. InsyaAllah.. :)) Huhuhuhu!!
Okay, here they are:

For 6 months owards:
Soft toy - bright colours.. :))


Cubes.. Aidan just love his.. :))


Great right?? We can teach them to place the stars to its original place according to the sizes.. :))


Another great invention- leave the kid thinking.. :))


Educational but Aidan dah boleh pusing, so much more interested pada the mattress yer.. Aidan kata, mummy dah terlambat!! kekeke.. ;))


Push it, dear.. And learn through the sound of music.. :))


Yang ter lambat tadi.. hahaha.. But, this one, with mattress attached.. :))


For sure, we are working on this one, Aidan own play gym later.. :)) with slides, swing and all.. :))


... and ofcoz, Aidan dah suka Excersaucer nih.. Haaaa, tgk tuh, sibuk jer 'pakcik' nih.. Buat apa tuh?? :))


Daddy is thinking of this Jumperoo ( Aunty Anne's Aariz pun ada satu.. :) , or..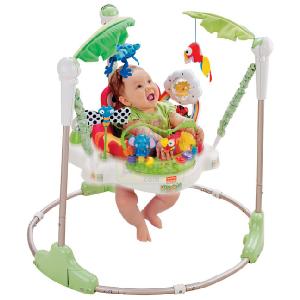 Evenflo Exersaucer.. :))

So, for mummies that wanna know the benefit of this

JUMPEROO

, read this :

It is always good to introduce your baby to different sights and sounds while they are still young. It is also a good idea to instill some awareness in your child when it comes to their surroundings at an early age. You can provide this opportunity to your baby through the Fisher-Price Rainforest Jumperoo. Your baby will enjoy exploring the overhead toys like the swinging monkey and the bobbing elephant. They will also love the lights and the music, while jumping up and down - exploring their own little rainforest.

So Much Fun For Your Baby

There are a number of advantages that the Fisher-Price Rainforest Jumperoo can provide for your baby. You could even say that it is a great tool that can help in his development. Your baby will be encouraged to test his motor skills on this jumper with all the spinning, jumping, and moving actions that he can do. While tactile stimulation can be brought about by the different textures of the rain forest toys, they can also stimulate the auditory and visual senses of your child when coupled with the music the jumper provides. While your baby activates the lights and the music of the rain forest, they will also be discover that there are certain effects to each action they make. Hand-eye coordination will also be fostered as reaches out and grasps the toys he likes.

So Much Fun for Mom and Dad

It is not only your child who could benefit from the Fisher-Price Rainforest Jumperoo, but also the parents. You will definitely enjoy more peace of mind with this educational and fun toy as it provides safe jumping for your kid. Since it sets up on its own legs, you won't even have to attach this to a doorway for your baby to enjoy some jumping action. The portability of the Jumperoo is also very advantageous for you if you bring your baby wherever you go in the house. You can just easily fold this baby jumper and bring it with you to the living room after you have been letting your kid play in it in his room.

And for those, who are so into this

EXERSAUCER

, read this :

Evenflo ExerSaucer Triple Fun is the top-of-the-line product from Evenflo and is designed for the first 2 years of your baby's life.

For a newborn use ExerSaucer Triple Fun seat pad
In the first period of your baby's life you can use the exersaucer's fabric seat pad as a playmat and the overhead arch as a floor activity toy. This will give your little one a lovely time, playing with all those funny colored toys hanging from the arch.

For that pre-walking period of your baby,use the exersaucer itself
This will keep your child entertained and will keep him/her in a safe and fixed location so you can do your job.

Also, when your baby starts walking and being more active, use the activity table that will offer enough toys for your baby to stay concentrated and in the same place you know him/her to be.

Let's see what people say about this exersaucer
"My son definately loved the stage 1 infant as well as the 4 month disk and could use them simultaneously. Disk is not hard to put together but a bit time consuming."



Features of Evenflo Triple Fun ExerSaucer

•Pond-themed activity center suits three developmental stages
•Grows from a newborn playmat to an ExerSaucer to a play center for walkers
•11 age-appropriate toys, including 3 electronics
•Variety of sounds, songs, and phrases, textures, learning pods, and moving parts
•Helps achieve 10 developmental milestones, such as gross- and fine-motor skills, object exploration, cause and effect, and self-awareness
•Seat locks in multiple positions
•Removable, washable seat pad
•3 flip-down feet and 3 height options
•Folds compactly for storage or travel
•Durable plastic is colorful and easy to clean
•Requires 9 AAA batteries (not included)
•30" diam. x 31 1/2"H