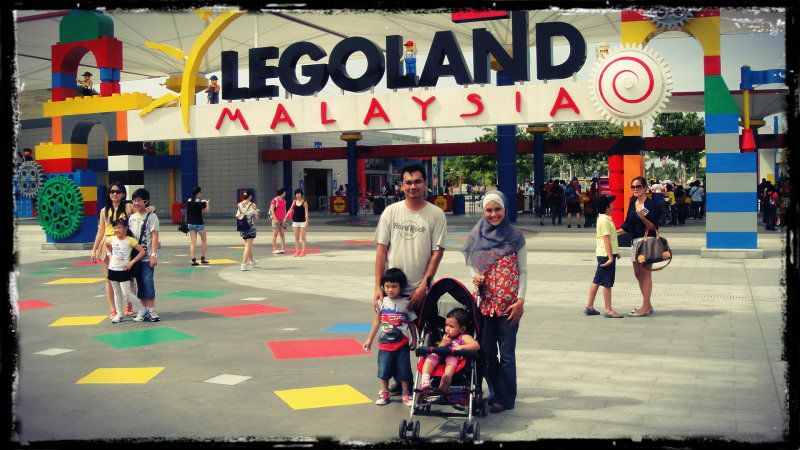 Fun-tastic getaway.. :))
Hi! We just got back from our short, sweet and exciting trip/ holiday in JB.. :) We have a lotttttt of pictures to upload.. Hehehehe.. :)) Lama tak bercuti, i really need this.. :) Alhamdulillah.. :)
It was a last minute decision to tag along with daddy who had to go to JB to hand in his assignment.. Usually if daddy had to go somewhere, it would be during weekdays, and if mummy and kids decided not to stay at Opah's, we would just stay at home.. Sometimes daddy would come back on the same day, or at 5-6 am, exhausted.. Oh my..
Since daddy had to go there during weekend, then we decided to stay at least for a night or two there.. And the kids would for sure love the idea of going to Legoland and Hello Kitty town.. So, mummy googled on the packages that the hotels there offered, and i came with such amazing packages.. Double fun!! :)) Will definitely share the link here.. :)
So yes, many photos to upload later.. On the Packages- Hotels (for those who interested to visit Legoland), Legoland, Danga Bay Carnival, Hello Kitty Town, Little Big Club, and yes, Johor Premium Outlet.. :P Kids got the chance to meet up with Barney, Pingu, Angelina Ballerina, and ofcoz Mr and Mrs Hello Kitty in person! :)) They loved them!
p/s: I shall say that this trip is to celebrate mummy and daddy's anniversary! :P Huhuhu.. *Tiba2.. :P
Ooooh, planning for a getaway to Universal Studio Singapore in March.. It would be great to celebrate my birthday and little Hessa's there.. :)) Jom, work extra hard.. :))
I miss Kota Iskandar already.. :)
And to you Lynn, sorry that i informed you late.. Last minute thingy, and you had your things already.. But thank you so much for the effort to look for us at the hotel, tapi kitorang dah keluar jalan2.. Hehehehe.. Next time kay?? See ya!