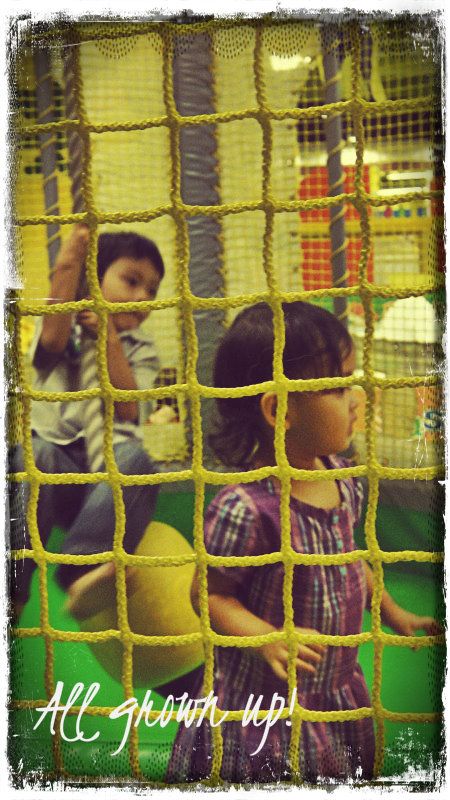 Grown up, all right! :P
Aidan
1) Aidan loves gadgets! Name it! He loves all of them.. Sometimes i feel so old when i am around him, as he would take out his Ipod, and started to use the apps inside.. I was like "What is this for?" and he would give me this look like, "Are you kidding me?? You seriously don't know, mummy?" and 'Ergghhhh" he went.. Hahahaha.. So the latest when it involves the use of Ipod is that, he already know how to change the Background Picture of it.. Yes, for some parents who has kids this age, and they too know about this, might find this normal, well, it is not for me!! Huhuhu!! I was like, "Daddy! You got to see this!" letting daddy witnessed what this kicik of ours did with his Ipod.. From this tab, to this button, to another button, scroll down to find the right button to open another file, scroll down, and up again, and down again, and pick the picture he wanted, pressed the 'Proceed' button, back to the first page, and walla, he just replaced his Background Picture to his fav Super Sonic!..
Mummy: "Alamak" Slap forehead!! Where did you learn how to do this? Positive thing about this is that he catches up what he learn very fast.. The not so good part is that, he is growing up real fast! :( and not good for eyes if terlalu lama..
2) His 4th birthday.. I asked him "Aidan, for your birthday cake.. Any theme?? Aidan nak Angry Birds ker, Plant vs Zombie ker, Super Sonic ker (picking up all his favorites, and i feel super duper cool at that time, since 4 years old, Aidan ofcoz dah start appreciate his birthday even more.. No more mummy's theme.. :P) And he went.. "Mmmmmm, Minecraft!"
Mummy: "Alamak" Slap forehead!! Minecarft?? What is it?? Ohhhh! Yes, Minecraft is his fav now, but since he doesn't really know how to play it, he would just build houses for Zombie.. Kekeke.. :P Most of the time, Super Mario!!
3) All funny sounded vocabs and sentences he likes to use.. This little fella cakap sometimes laju.. There was this night, when we played Blocks.. He built himself a castle, and suddenly adik came and almost tripped on it.. He went "Adik, detz ze close!" Yes, he was saying "Adik, that was close!' Kekeke.. :P
4) Negotiation sometimes work! Yes, sometimes, he would say this to me.. "Mummy, come jap.. Aidan cakap something.." and when i put my ear closer to him, he said.. "Boleh Aidan makan ice cream?".. Oh my, how to say no!? :P
5) 2 ways conversation is simply awesome.. Usually, on weekends, when i was busying myself in the kitchen, he would come to me, and give me my morning hug.. Then it is a normal routine for him to ask me, "Mummy buat apa tu?" and i would say "Mummy cook for you la.." Usually he would ask to look at what i was cooking, and ask me "Sedap tak?? Mummy rasa la dulu.." and when i did that, he would ask me "Sedap tak?".. :)) I love our weekends because of all these.. If only i can spend all my days with them.. We for sure going to have a lot of fun.. Plus some high tone from me here and there, ofcoz! :P
Hessa
Hessa is starting to catch up what Aidan is capable of doing very fast.. And loves to express her feelings openly.. He would laugh out loud to all the things she found funny, exciting, and ohhhh, typing this just made me smile alone too.. She is indeed adorable to me.. :))
Knowing that Aidan loves Ipod, whenever Aidan did something that made either me or daddy mad, this kicik would surely say "Aidan, no Ipod!" Hahaha.. Everytime, without fail! :P
When she disagrees on something, she would surely let you know.. And when you refuse to follow, she would say "Daddy/ Mummy, tengok Aidan! Aidan tak bagi tu" and sometimes "Daddy, tengok mummy!" or " Mummy, tengok Dad!" Hahaha..
There are times when Aidan refuse to let adik play his toys, adik would cry for help, and when mummy datang pujuk, i would ask her "Why?" he would let me know what is going on, and when i asked "Aidan tak kasi adik main ker?" he would reply "Yer.. (cebik)".. "Aidan tak nak share?".. "Yer.. (cebik)".. and few rounds of questions and her answers would still be the same "Yer..!" Then i ask her, "Adik sayang Aidan tak??" and she answered "Yer.. mmm No!" and we both laugh.. Hearing this, Aidan would either come and pujuk adik, or simply say "No??? Alaaahh" and back with his thing.. Kekeke..