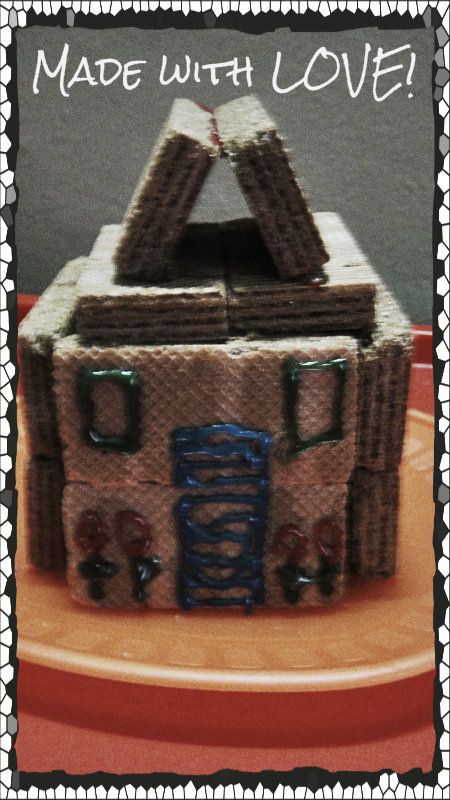 Our house.. The kids version.. :P
Trial Version: Biscuits House..
When we feel like doing something different.. :)
Yes, when we feel like it, we would just find time and think of what to do for our "Mummy- Kids" fun time/ activities at home, and this time, we made our first Biscuits House.. :) No baking required for sure.. :P
At first we wanted to do it during our weekend's class, but we decided to proceed anyway as a trial version.. Hessa can't take chocolates right now, so not much decorations can be done for our Biscuits House.. It's okay anak2 mummy, later when adik's eczema dah hilang, we would do this again, okay? :)
Aidan kept on asking adik to be extra careful when decorating the 'house' and he took a picture of it, and made himself a movie.. Yer, he just destroyed our cake in the video, and went 'Oh my God, sorry mummy!' kekeke.. It's okay, dalam video jer pun, anak mummy.. :P
Messy time, makan, and yes, jom mandi! :)
I love doing all these with them.. Even after balik keje and letih sangat2, somehow when i saw them excited and interested enough to join me, i would feel so content and relax.. Well, uhuk2, mesti gak ada time mummy went.. "Kejaaaaapppp lerrrrr".. kekeke.. :P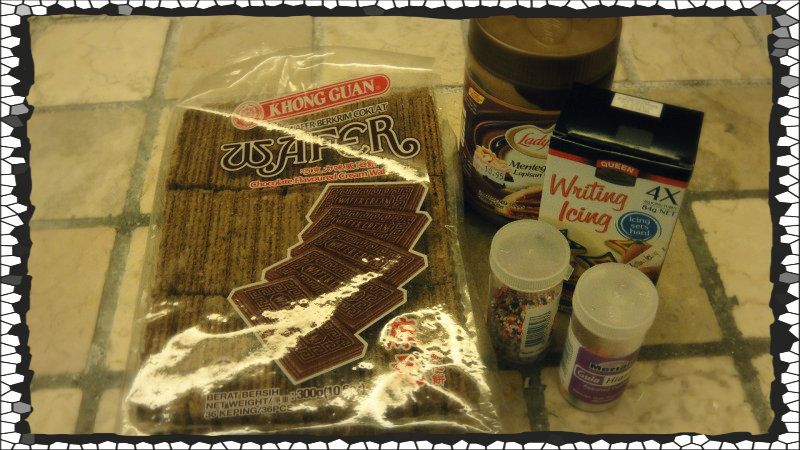 Icing works as glue too.. :))
Our construction side.. :P
Happy expression??? Confused mummy.. hehehe.. :P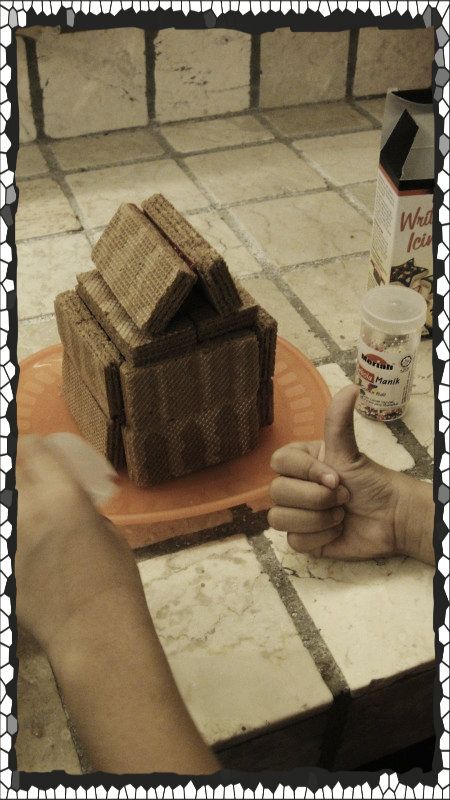 Tadaaaaa.. :)) Simple one ofcoz.. :))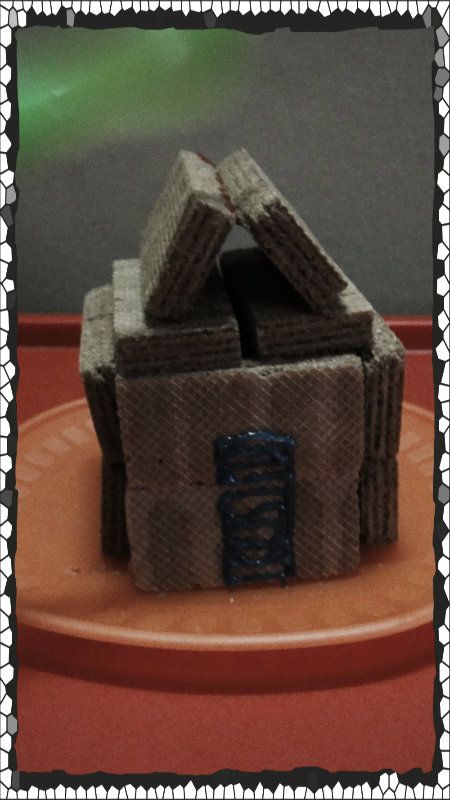 Decorating time.. :)) A door indeed.. :)) Yang nih mummy buat dulu.. As an example.. :))
And then pegang tangan sorang2, and proceed with the rest.. Windows, flowers.. :))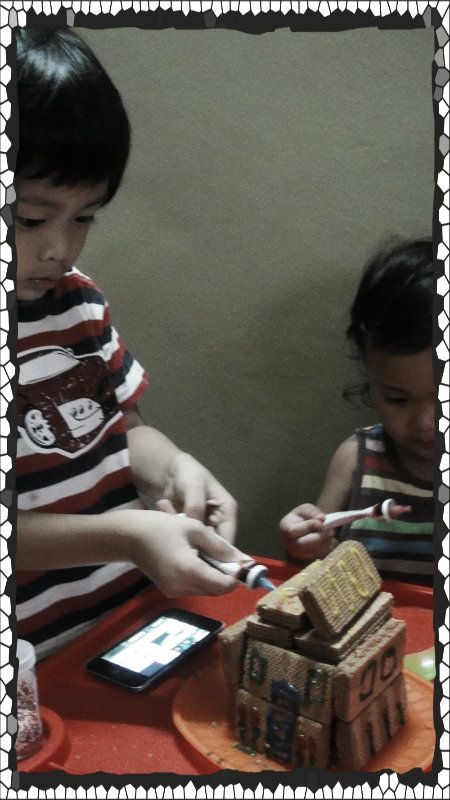 Now, buat sendiri yer.. Tihihihi.. Messy time.. Enjoy!!! :)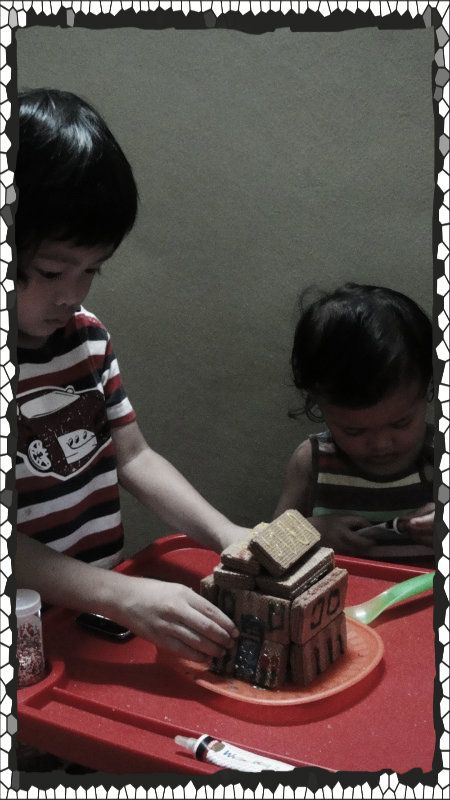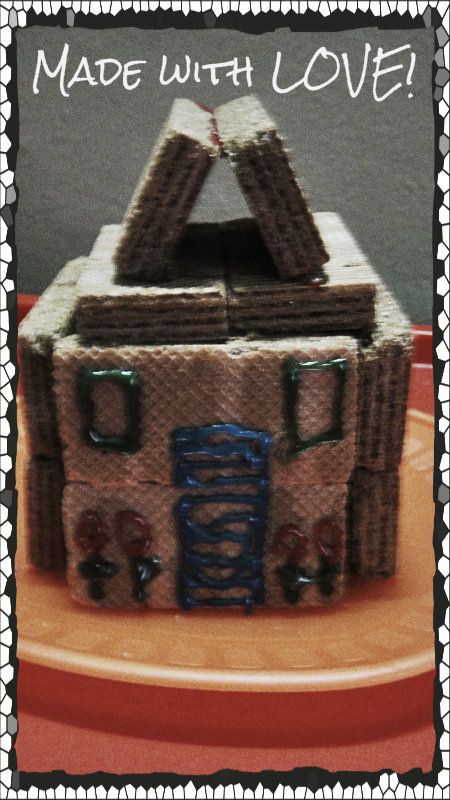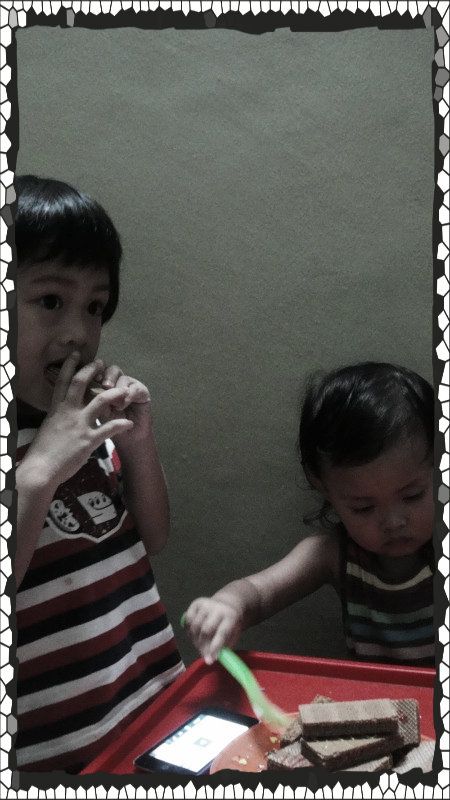 Okay, makan time.. :)) Nyum2.. :))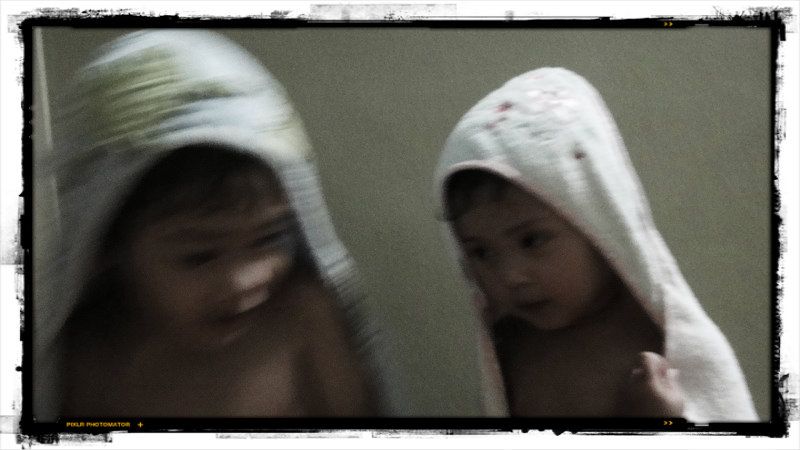 On my left, we have.. Aidan!! HEAVY weight champion for 2 years in a row!!!
And the crowd go : Yeahhhhhhhh!!! Go go Aidan!!!
On my right, we have.. Hessa!! Light weight cha.... (tak abis lagi sentence mummy)
And the crowd go : Awwwwwwwwwwww!! Battling eye lashes.. >..<